Tank Explosion in West Virginia
Credit: 6 PDH Hours
Course Fee: $90.00
51 pages
How it Work!
Register first and log into your account. Study and take the quiz for FREE until passed.
After passing the quiz, follow the page, pay for the course and print your certificate.
Course Summary:
On May 24, 2017, an explosion occurred at the Midland Resource Recovery (MRR) facility in Philippi, West Virginia,killing two workers and severely injuring another worker. The founder and president of MRR was one of the victims.The CSB initiated an investigation of the incident and deployed an investigative team on May 28, 2017. While the CSB was investigating this incident, the MRR facility experienced a second explosion, on June 20, 2017. This explosion fatally injured a contractor employed by Specialized Professional Services, Inc. (SPSI).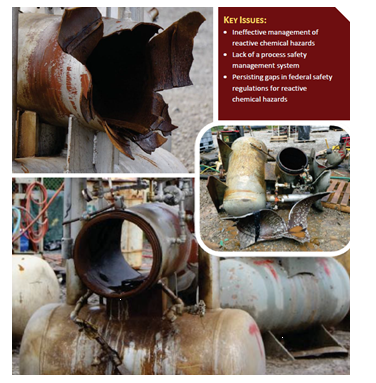 Learning Objective:
By the end of this course the student will learn what was the cause and origin of this explosion accident.
Course Content
Course Author: Franco F. Davati, P.E.
Certificate of completion of the course
This course comes with a multiple-choice quiz. You can view the quiz and take the quiz if you are logged in your account. You can take the quiz for this online PDH course as many times until passed. The passing grade is 70% and above. After you pass the quiz simply follow the page, to pay for the course and print your certificate instantly. A copy of the certificate and receipt for this course will always be in your account.
This online PDH course can also be used as a continuing education course for the following.
PE Chemical & Oil & Gas Engineers