Testimonials
WHAT PEOPLE SAY
Excellent overview of engineering marvels and obstacles. Good assessment of where engineering & how it benefits mankind. Got a better understanding and appreciation for considering safe and practical designs in my line of work. Received value for conducting root cause failure analysis when encountering failures at work.
Michael McNeely
WHAT PEOPLE SAY
Very generally informative. Probably renewed everyone's realization that detail in quality assurance is key to meeting engineering goals.
Joe Torres
WHAT PEOPLE SAY
The class was well organized and instruction materials being very visual, it was easy to understand. The first portion of the class was very informative for some one thinking of starting a small business. Great way to enhance my world of design engineering and application.
P.B. Desai. P.E., Mechanical Engineer
WHAT PEOPLE SAY
The information was very informative and practical. It was presented in a very clear manner and contained many useful examples of what works and does not. I would have no hesitation in recommending this class to anyone considering becoming a consulting engineer.
Charles Morrin, P.E., Mechanical Engineer.
Previous
Next
Young Engineers of Tomorrow
Our Visit to School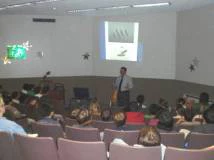 When Ms. Dennison, the Chair person of the Mathematic Department at the Mayde Creek Junior High kept hearing from her students, why was math so important? And what does it do. Can we make any living off of it besides being a math teacher? That's when she thought, they needed an engineer to explain how it is all connected, and how things are built and why math is the foundation of it all.
She decided to seek an engineer that could encourage and reinforce the importance of math and science to the young minds at her school but wasn't sure who to call.
Although, there are many engineering continuing education companies in Texas, especially in Houston area, they learned many of them are simply a guy behind a computer that cannot stand behind or represent the materials that his company promotes. They realized www.discountPDH.com is the only engineering continuing education company that was able and willing to provide an educational presentation on an instant notice, but was also able to keep it interesting and exciting for the kids.
We arranged 7 separate presentations in "Forensic Engineering" for the students.
They loved all of the forensic engineering animations and the reconstruction of the accidents. I explained to them why they needed to learn math first, so they can understand later on physics, dynamics, mechanics, strength of material and so on....
Also, I explained what happens if these measures are not done properly and the catastrophic accidents that can result from it. Then I showed them an array of different accidents and what caused it and the end result.
I used only my animations, so it would be more on their level and would hold their attention. They seemed to really enjoy it a great deal. It showed through their enthusiasm and questions.
I have to admit the person who enjoyed it the most was myself, especially with all the interesting inquisitive questions that they were asking with their young minds.
I am hoping that we get a lot of good engineers out of those groups!
We shared our story with the Texas Board of Professional Engineers and Ms. Dale Beebe- Farrow, the Executive Director of the Texas Board of Engineers was kind enough to put the story on the Engineering Express newsletter, to encourage other engineers to reach out to our youth and to future young engineers.
After all, we are the only ones who can encourage and provide examples for the future generation of the engineers.
I have enclosed a few pictures from the school and their thank you letter and also the nice article that Texas Board of Professional Engineers were kind enough to write about the story on the Engineering Express newsletter.
Regards,
Franco F. Davati, P.E.
President
Failure & Damage Analysis, Inc.
www.acident-analysis.com
www.discountPDH.com
The letter from Ms. Jessica Dennison the Mathematic Department Chair of Mayde Creek Junior High school.
Mr. Davati,
A BIG thank you comes from Mayde Creek Junior High School. We really appreciate you coming and spending the day with our students informing them of your job. The kids couldn't stop talking about it after your presentation. You have left a lasting mark on our students in a very positive way. We hope you enjoyed yourself as well and had a fun time getting to know our students.
With MUCH appreciation,
Jessica Dennison
Mayde Creek Junior High
7th grade Math Mathematics Department Chair
Texas Board of Professional Engineers
The nice article that Texas Board of Professional Engineers were kind enough to write about the story on Engineering Express newsletter.