Mast Climbing Platform Collapse in Austin, Texas
Credit: 4 PDH Hours
Course Fee: $48.00
35 pages
How it Work!
Register first and log into your account. Study and take the quiz for FREE until passed.
After passing the quiz, follow the page, pay for the course and print your certificate.
Course Summary:
On June 10, 2009, at about 2:20 p.m., three construction employees were killed when a mast climbing platform north of the mast collapsed at a condominium project under construction in Austin, Texas. The platform south of the mast and the mast itself remained intact and did not collapse. The site where the accident occurred was located at 2101 Rio Grande, Austin, Texas. At the time of the collapse, about eight employees including the operator were located on both sides of the platform. Immediately before the incident, the platform descended from the13th floor and was stopped at the eleventh floor when the north platform suddenly separated from the main frame (motorized unit) and the mast, and fell to the seventh floor. As a result of the failure, three employees fell with the platform. Two of them fell 11 stories to the ground and the third fell to the seventh floor. The other two employees on the north side were able to hold onto the balcony and were saved.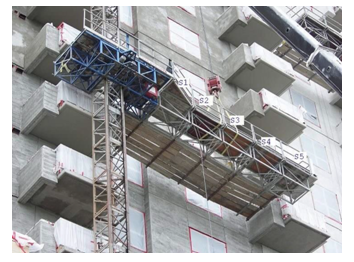 Learning Objective:
By the end of this course the student will learn what was the cause and origin and why did the mast climbing platform collapsed.
Course Content
Course Author: Franco F. Davati, P.E.
Certificate of completion of the course
This course comes with a multiple-choice quiz. You can view the quiz and take the quiz if you are logged in your account. You can take the quiz for this online PDH course as many times until passed. The passing grade is 70% and above. After you pass the quiz simply follow the page, to pay for the course and print your certificate instantly. A copy of the certificate and receipt for this course will always be in your account.
This online PDH course can also be used as a continuing education course for the following.