Stormwater Pollution Prevention Plan
Credit: 6 PDH Hours
Course Fee: $72.00
23 pages
How it Work!
Register first and log into your account. Study and take the quiz for FREE until passed.
After passing the quiz, follow the page, pay for the course and print your certificate.
Course Summery:
This document provides guidance to construction site operators that need to prepare a SWPPP in order to receive NPDES permit coverage for their stormwater discharges. The Clean Water Act provisions, EPA regulations and EPA's Construction General Permit described in this document contain legally binding requirements. This document does not substitute for those provisions, regulations or permit, nor is it a regulation or permit itself. It also does not substitute for requirements under State law or construction general permits issued by States. It does not impose legally-binding requirements on EPA, States, or the regulated community, and may not apply to a particular situation based upon the circumstances. EPA and State decisionmakers retain the discretion to adopt approaches on a case-by-case basis that differ from this guidance where appropriate. Any decisions regarding a particular construction site will be made based on the applicable statutes, regulations and/or permit terms. Therefore, interested parties are free to raise questions and objections about the appropriateness of the application of this guidance to a particular situation, and EPA or the applicable NPDES permitting authority—will consider whether or not the recommendations or interpretations in the guidance are appropriate in that situation based on the law and regulations.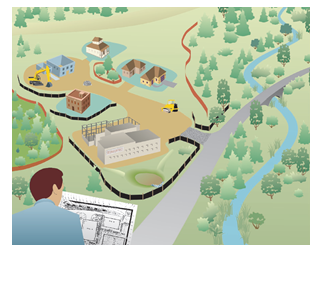 Learning Objective:
Stormwater runoff from construction sites can cause significant harm to our rivers, lakes, and coastal waters A SWPPP is required (by your construction general permit) and will help you prevent stormwater pollution. A SWPPP is more than just a sediment and erosion control plan. It describes all the construction site operator's activities to prevent stormwater contamination, control sedimentation and erosion, and comply with the requirements of the Clean Water Act.

Review the quiz before studying the course.
Course Content
Course Author: Franco Davati, P.E
Certificate of completion of the course
This course comes with a multiple-choice quiz. You can view the quiz and take the quiz if you are logged in your account. You can take the quiz for this online PDH course as many times until passed. The passing grade is 70% and above. After you pass the quiz simply follow the page, to pay for the course and print your certificate instantly. A copy of the certificate and receipt for this course will always be in your account.
This online PDH course can also be used as a continuing education course for the following.
PE Chemical & Oil & Gas Engineers