Drainage Design Criteria
Credit: 11 PDH Hours
Course Fee: $99.00
76 pages
Course Summary:
The information contained herein, covers the minimum standard criteria to be followed by Design Engineers when preparing plans for construction of County storm drain systems within the jurisdiction of the Montgomery County Department of Permitting Services (MCDPS) and the Montgomery County Department of Transportation (MCDOT). Criteria contained herein cover such aspects as document submissions, right-of way/easements, hydrology, and hydraulics.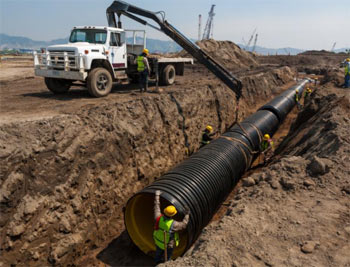 Learning Objective:
A storm drain system is defined as a network of open channels and underground pipes designed to capture and convey concentrated storm water flows to a point beyond the limits of the property being developed. County storm drains convey storm water within the limits of Montgomery County right-of-way; whereas, private storm drains convey storm water within the limits of privately owned property.

Review the quiz before studying the course.
Course Content
Course Author: MCM
Certificate of completion of the course
This course comes with a multiple-choice quiz. You can view the quiz and take the quiz if you are logged in your account. You can take the quiz for this online PDH course as many times until passed. The passing grade is 70% and above. After you pass the quiz simply follow the page, to pay for the course and print your certificate instantly. A copy of the certificate and receipt for this course will always be in your account.
This online PDH course can also be used as a continuing education course for the following.