ADA - Accessible Means of Egress
Credit: 2 PDH Hours
Course Fee: $30.00
18 pages
How it Work!
Register first and log into your account. Study and take the quiz for FREE until passed.
After passing the quiz, follow the page, pay for the course and print your certificate.
Course Summary:
Accessible means of egress must be provided according to the International Building Code (IBC). Issued by the International Code Council (ICC), the IBC addresses the number of means of egress required and technical criteria for them, including fire– resistance rating, smoke protection, travel distance, width, and other features. The Standards currently apply the IBC 2003 edition or the 2000 edition and 2001 supplement. The Access Board plans to update these references. Compliance with a later edition may be possible under the provision for "equivalent facilitation" (§103) if it is comparable to, or stricter than, the referenced editions.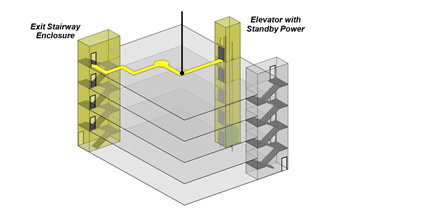 Learning Objective:
In this course means of Egress is discussed and clarified. A means of egress is an unobstructed path to leave buildings, structures, and spaces. A means of egress is comprised of exit access, exit, and exit discharge.

Review the quiz before studying the course.
Course Content
Course Author: Franco F. Davati, P.E.
Certificate of completion of the course
This course comes with a multiple-choice quiz. You can view the quiz and take the quiz if you are logged in your account. You can take the quiz for this online PDH course as many times until passed. The passing grade is 70% and above. After you pass the quiz simply follow the page, to pay for the course and print your certificate instantly. A copy of the certificate and receipt for this course will always be in your account.
This online PDH course can also be used as a continuing education course for the following.